Tour to the Reindeer, Mongolia, will be one of your unforgettable adventures and a lifetime experience. Tsaatans (Reindeer) have lived in the remote, deep forest of northern Mongolia.   They are one of the few remaining tribes of its kind left as modern development makes its way into their remote habitat, their ancient traditions are now at risk of dying out.  Our 15-day tour to the Reindeer lets you discover and explore Central Mongolia and the North of Mongolia.  You'll be able to experience camel riding at Semi Gobi and horseback riding to the Reindeer tribe, hiking at Great White lake, and Lake Khovsgol.  This itinerary is one of the classic routes for people who want to have adventures.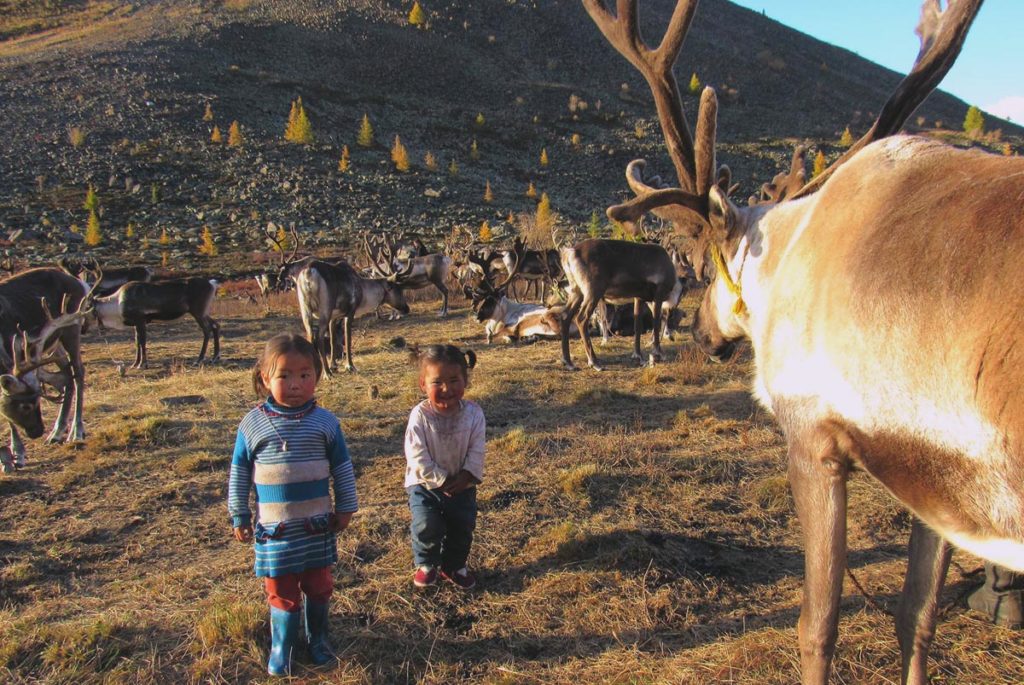 Total distance: 2500kms; 
Tour length: 14 nights and 15 days
Route: Ulaanbaatar – Khustai-Khogno Khaan – Kharkhorin – Tsenkher Hot springs- Great White Lake – Murun – Ulaan Uul- Renchinlkhumbe -Taiga- Renchinlkhumbe – Lake Khovsgol – Uran Togoo – Ulaanbaatar
Difficulty level: Challenging
Activities:
 Camel riding for an hour, visit Erdenezuu temple, Khustain nuruu Natioanl park, Great White lake /Terkhiin Tsagaan nuur, and Lake Khovsgol. You will enjoy a natural hot spring at Tsenkher, and a one day hike between the lake and Khorgo volcano. You will have an amazing Horse trekking for 4 days to visit the reindeer breeders, and visit with local families.
What to bring:
Bring a wind breaker, a warm jacket or coat, waterproof jacket,  sweatpants, sweatshirt, long sleeves shirts, T-shirt, warm hat, and boots for the horse trekking, gloves, scarf,  personal toiletries, head or touch lamp, and sunglasses.  
It's not recommended to have a suitcase. 
For detailed information please click here
Included:
Transportation
Fuel
English speaking tour guide/cook
National park entrance fees
Camel riding for an hour
Horse riding trip for 4 days
Accommodation (tents, ger camps, family ger, guesthouse, reindeer hut as mentioned in the itinerary)
1.5L drinking water a day for per person
Full board(6 breakfast, 7 lunch, 6 dinner)
Mattresses
Sleeping bags
Excluded:
Accommodation in UB
Travel insurance
Personal toiletries
Tips for the driver and the guide
Visa fee
Travel insurance
Alcohol drinks
Reindeer adventure tour itinerary
Day 1:
Our tour to the Reindeer will start driving to Khustai National Park.  It is on the north side of the Tuul River, about a two-hour drive west of Ulaanbaatar.  It is a hilly terrain, with the Tuul River forming the southern boundary. The national park was originally set up in 1993 as a nature reserve for the first reintroduction of the Przewalski Horse (Equus Przewalski) into Mongolia. 
In the afternoon, we head to Mount Khogno Khan Nature Reserve. The mountain is home to hundreds of birds, deer, and gazelle. You can go hiking around the area or to the small dunes nearby called " Elsen tasarkhai". Spend the night in a nomadic family spare yurt.
Day 2:
On this day, we drive to Tsenkher hot spring. You can relax, taking a natural hot bath in the hot spring water. Stay at a tourist yurt camp at Tsenkher hot spring.
Day 3: 
Starting with a drive to Great White Lake and Khorgo Volcano.  We stay at the nomadic family spare yurt.
Day 4:
A day of hiking to the Volcano "Khorgo" for a day and enjoy the beautiful scenery. Stay at the same place.
Day 5: 
Drive to Murun town, the capital of Khovsgol province. Please note it involves long driving.  Overnight in a hotel.
Day 6: Now we're heading to our highlight of the trip.
We'll drive to the Reindeer tribe, but we'll spend the night on the way. We'll camp near Ulaan-Uul village.
Day 7: 
We arrive at the horse herder family who will guide us to the Reindeer tribe and enjoy the view and go hiking around the area.  Camp or sleep with a horse herder family. 
Day 8: 
It is a day of horse trekking and we will ride horses for about 5-6 hours. Then we'll camp.
Day 9: 
The ride continues with our horse trekking and arrives at the reindeer tribe in the afternoon. We'll meet a reindeer family and sleep in their huts.
Day 10:
We'll be able to observe their lifestyle and have some time to play with their children before noon. And then after lunch, we'll continue riding our horses.  Overnight in a tent.
Day 11:
Today continues riding our horses for about 8 hours and back to the van.  Sleep in a family yurt.
Day 12:
Please note:  We'll have a long driving day in order to reach the lake Khovsgol.  We'll drive to Lake Khovsgol which is one of the most visited places for both locals and tourists. We'll go hiking around Lake Khovsgol which is one of the country's largest and most spectacular protected areas. We're going to stay in a tourist yurt camp.
Day 13: 
Today we hike around the lake and enjoy the view.  We'll stay in the same place.
Day 14: 
Now the drive to Uran Togoo near Bulgan province. Actually, we're heading to Ulan Bator.  We'll camp.
Day 15:
Today, we will return to Ulan Bator.
Note:  All price are per person.  
It's strongly recommended to book this tour one month in advance due to the border permit system here in Mongolia.
You can join the small group tour to the Reindeer tribe (Tsaatan) on fixed dates as shown on a following table. Advantage of this tour is you'll meet others and make friends with them. You'll have your own guide/cook who will provide the best meal during your tour. Also, you'll be able to have the best price of the tour.
[table id=5 /]
If you want to book a private tour with your family or friends, then the price list is shown in the below table.
[table id=6 /]