TREKKING AND DRIVING ADVENTURE IN CENTRAL MONGOLIA
A central Mongolia tour includes the most popular destinations for both tourists and locals.
Our guided trekking and driving combined tour take you into the heart of destinations in Central Mongolia. The trip is fun, adventurous. And it let you explore and discover amazing landscape with convenient ways. Our 11- day tour will introduce the cultural background, history, incredible landscape scenery, and explore and discover Eight lakes and Great White lakes and Semi Gobi in central Mongolia.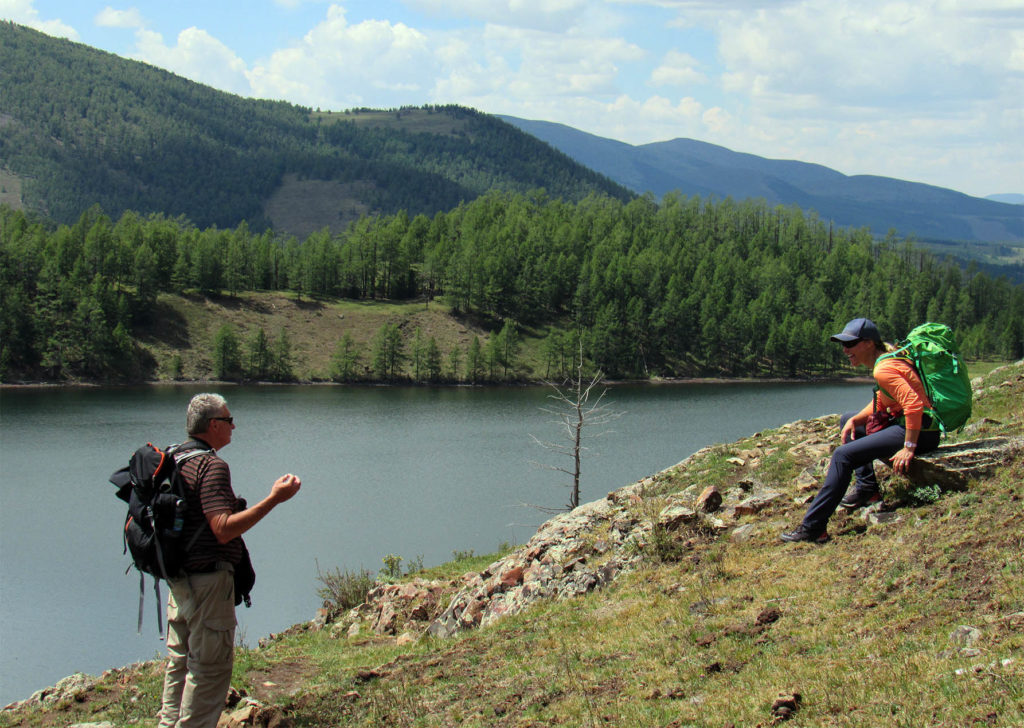 Total distance: 1615km by car 50 km trekking
Tour length:  10 nights and 11 days
Route:  Ulan Bator – Khustain Nuruu National Park – Semi gobi – Shuranga – Shireet lake – Khuis lake –  Buureg yurt camp – Orkhon waterfall – Tovkhon temple – Tsenkher hot spring – Great White lake – Tsetserleg – Kharkhorin – Ulan Bator
Activities:  See takhi horses, visit Erdenezuu temple museum and Kharkhorin museum, trekking for 3 days, staying at a nomadic families yurt, trying typical Mongolian foods, horse riding at for a day, camel riding an hour at Semi Gobi, visiting Tsetserleg town.
Difficulty:  Moderate
What to bring:  Windbreaker, sweatpants, sweatshirt, long sleeves shirts, T-shirt, cap, hiking shoes, personal toiletries, head or touch lamp, sunglasses. For detailed information please click here
Included:
Transportation
Fuel
English speaking tour guide/cook
Local guides for camel and horse riding and yak loading.
National park entrance fees
Horseback riding for a day
Yaks to load luggage for trekking
Tents
Mattresses 
Sleeping bags
Camel riding for an hour
Accommodation as mentioned in the itinerary 
1.5L drinking water a day per person
Full board (10 breakfast, 11 lunch, 10 dinner)
Excluded
Accommodation in UB
Travel insurance
Personal toiletries
Tips for the driver and the guide
Visa fee
Travel insurance
Alcohol drinks
Itinerary: 
Day 1: Semi Gobi via Khustain Nuruu National Park.  ( Nomadic family spare yurt.)
Day 2: Drive to Shuranga.  Shuranga is a spot where we'll start our trekking.  (Yurt tourist camp)
Day 3:  Trekking to Shireet lake which is the biggest lake of the Eight lakes. (tent)
Day 4:  It's our second day trekking to Khuis lake and enjoy the fantastic landscape scenery. (tent)
Day 5:  Continue trekking to Buureg yurt camp where we can enjoy the hot shower after 3 days of trekking. (Yurt tourist camp)
Day 6:  Visit Orkhon waterfall,  Tovkhon temple, then we'll continue driving to Tsenkher hot spring. (Yurt tourist camp)
Day 7:  Great White Lake (Nomadic family spare yurt)
Day 8:  Horseback riding to/from Khorgo volcano for a day. (Nomadic family spare yurt)
Day 9:  Tsetserleg town (Hotel)
Day 10:  See Erdenezuu and Kharkhorin museum, visit function temple Erdenezuu to see the chanting ceremony of Buddhist monks. (Yurt tourist camp)
Day 11:  Arrive in Ulan Bator.
Note: All price are per person.
You can join the group tour to a Central Mongolia tour on fixed dates as shown on a following table. Advantage of this tour is you'll meet many people from different parts of the world and make friends with them. Also, you'll be able to have the best price of the tour.
If you want to book a private tour with your family or friends, then the price list is shown in the below table.
[table id=4 /]