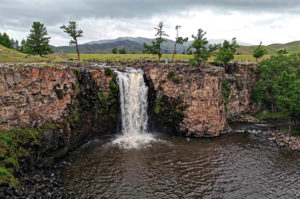 Orkhon valley is one of the top destinations for both tourists and locals in Mongolia. The main attractions in Orkhon valley are Ulaan Tsutgalan waterfall, Tovkhon temple and Kharkhorin, ancient capital of Mongolia. The waterfall was formed by a unique combination of volcanic eruptions and earthquakes about 20000 years ago. The falls are usually impressive after heavy rain. Orkhon waterfall is 150kms from Erdenezuu musuem in Kharkhorin. It's about 520 kms from Ulan Bator. Orkhon is the longest river in Mongolia with a length of 1124 km and it joins Selenge river. It's a pretty picturesque place and great for hiking or horse trekking. You'll be able to go down from the waterfalls to the bottom of the gorge and swim. The water is cold though. If you love to go fishing then it'll be the right spot for catching lenok downstream from the waterfall.
UNESCO listed Orkhon valley as World Heritage site in 2004.
The most visitors go to Tovkhon temple because it's not far from the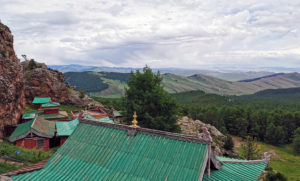 waterfall. The first Bogd Gegeen Zanabazar founded Tovkhon temple in 1653 and he lived, worked and meditated there for 30 years. He created the most of his famous art works , also he developed the soyombo script there. The temple is on the top of the mountain in Khangain Nuruu National Park and it has a gorgeous view from the top. The temple is open in the morning so, you'll be able to see a chanting ceremony if you get there before 11am.
Good time to travel there is from April to October. You can visit there in winter but sometimes snow blocks the road.