Lake Khovsgol and Central Mongolia tour
Lake Khovsgol tour covers the Central and Northern parts of Mongolia. 
Lake Khovsgol is a beautiful, unique environment and an extraordinary travel experience. Because of its unique flora and fauna and fascinating nomadic way of living, Lake Khovsgol is well worth the journey.
You enjoy visiting a historical site of Erdenezuu temple museum, enjoy the natural hot bath, and admire the outstanding view of the lake Khovsgol.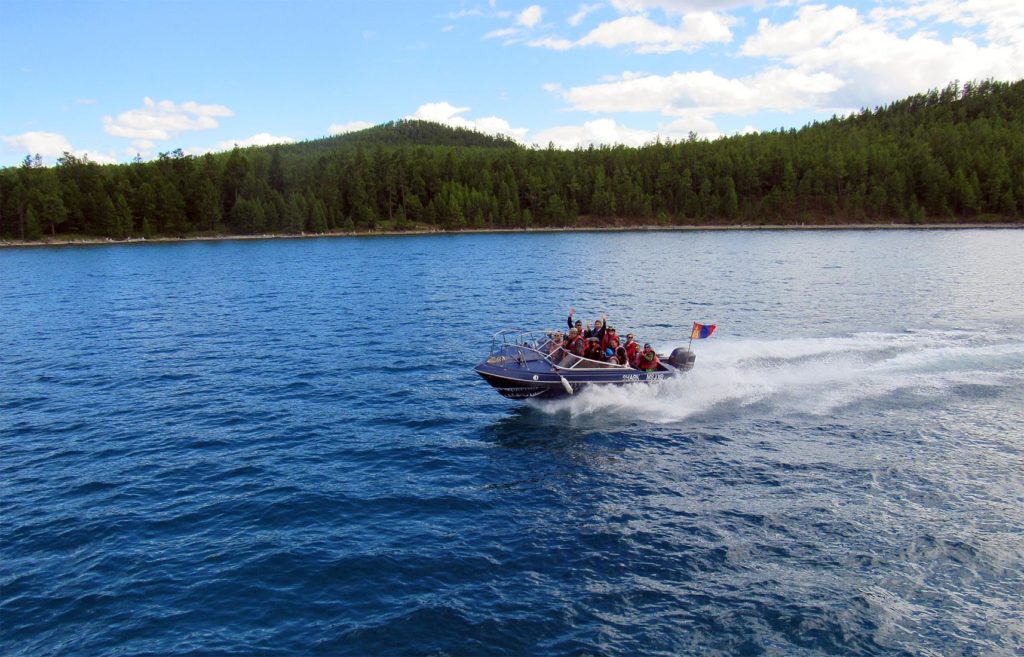 Total distance: 2200km;  
Tour length:  9 nights, 10 days
Route:  Ulaanbaatar  – Khogno Khaan mountains –Erdenezuu temple museum – Tsenkher hot spring – Great White lake – Zuun nuur – Lake Khovsgol – Khutag Undur – Amarbayasgalant temple -Ulaanbaatar
Activities:
Camel riding for an hour, horseback riding at the lake Khovsgol for a day, see wild horses, visit Erdenezuu temple museum and Kharkhorin archaeology museum, enjoy the hot bath in the yurt camp made from natural hot spring, hiking, climbing the sand dunes, and experiencing local family daily life style
Difficulty:  moderate
What to bring:
Wind breaker or waterproof jacket, hiking shoes, sweatpants, sweatshirt, long sleeves shirts, cap, swimming suits, personal toiletries, head or touch lamp, and sunglasses. For detailed information please click here
Included:
Transportation
Fuel
English speaking tour guide/cook
National park entrance fees
Camel riding for an hour
Horse riding for a day
Accommodation as mentioned in the itinerary
1.5L drinking water a day per person
Full board(9 breakfast, 10 lunch, 9 dinner)
Tents
Mattresses 
Sleeping bags
Excluded:
Accommodation in UB
Travel insurance
Personal toiletries
Tips for the driver and the guide
Visa fee
Travel insurance
Alcohol drinks
Lake Khovsgol and Central Mongolia tour itinerary
Day 1: Khustai National park and Semi Gobi
Visit Khustai National park and see wild horses called "Taki" also, it's known as Przewalski horse. After lunch, we'll drive to Khogno Khan mountain, a perfect place for walking, so it's great for spotting ibex, wolves, and many varieties of hawks. Spend the night in a family's spare yurt. 
Day 2: Kharkhorin-Tsenkher hot spring
We ride camels for an hour after breakfast and then drive to an ancient capital Kharkhorin to visit Erdenezuu temple museum.  
After the museum, we drive to Tsenkher hot spring.  We will spend the night in the tourist yurt camp because it has a perfect natural hot bath, so you'll enjoy taking a hot bath. 
Day 3: Great White Lake 
The National park covers 28 square kilometers including Togoo Uul 2.240 meters above sea level and the lake is called Terkhiin Tsagaan.  For the night, we stay in a local family's spare yurt. 
Day 4:  Khorgo volcano
Hike from the lake to Khorgo volcano for a day and enjoy the fantastic scenery from the top of the volcano.  Stay in the same family's spare yurt for guests.
Day 5:  Zuunnuur 
On this day, we head to Lake Khovsgol but on the way, we'll sleep in tents near Zuunnuur in order to avoid long driving. And you'll have an experience of camping with pretty suns
Day 6:  Lake Khovsgol
– From Zuunnuur to Khatgal village, Khovsgol province. 
Khovsgol National park covers 8.381 square kilometers including the Lake Khovsgol.
It has been protected since 1992. And Taiga forest has Euro Asian otter, beaver, moose, reindeer, argali, Siberian ibex, snow leopard, red deer, Siberian roe deer, and many other wild animals. A family spare yurt for the night. 
Day 7: Horseback riding
Horseback riding day by the lakeshore and enjoy the magnificent view of the area.  We'll spend the night in the same family's spare yurt. 
Day 8:  Khutag – Undur
Camp near Khutag Undur village and you'll enjoy the scenery while we're driving, so you can stop for pictures as many times as you want.
Day 9: Amarbayasgalant temple
It is one of the most interesting Buddhist temples. Overnight in a yurt camp.
Day 10: Ulaanbaatar
Drive back to Ulaanbaatar.
Note:  All prices are per person.
You can join the group tour to the Lake Khovsgol and Central Mongolia tour on fixed dates as shown on a following table.  Advantage of this tour is you'll meet many people from different parts of the world and make friends with them.  Also, you'll be able to have the best price of the tour.  
| Tour dates | No of people | Prices | Availability |
| --- | --- | --- | --- |
| June 24 – Aug 2, 2021 | 10 | $740 US | 10 |
| Aug 6 – Aug 15, 2021 | 10 | $740 US | 10 |
| Aug 18 – Aug 27, 2021 | 10 | $740 US | 10 |
| Aug 30 – Sep 8, 2021 | 10 | $740 US | 10 |
If you want to book a private tour with your family or friends, then the price list is shown in the below table.
[table "" not found /]