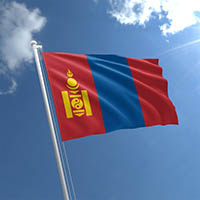 Applying a tourist visa to Mongolia is easy.
Visit official website for CONSULAR DEPARTMENT, MINISTRY OF FOREIGN AFFAIRS MONGOLIA  for detailed information of applying tourist visa to Mongolia.
You'll be able to get a 30-day tourist visa easily at any Mongolian consulate, consulate-general or honorary consulate.  Follow the following steps and requirements to obtain a Mongolian visa from your nearest Mongolian Embassy:
One copy of visa application form is required for Mongolian visas
State clearly travel dates
A valid passport must be produced
For a group visa the Consular Section needs only passport of a tour leader and the rest of the clients should provide the following. (Nationality, sex, date of birth, passport number, date of issue, date of expire)
3 recent passport size photographs should be attached.
Self-addressed and registered Envelope is required in case visa applied by post.
All visas, except transit are issued by the Embassy. The normal time required for a visa to be processed is one week. But for a transit visa -48 hours without any authorizations.
To get a visa for longer than 30 days, you must be invited or sponsored by a Mongolian, a foreign resident or a Mongolian company, or be part of an organized tour from a Mongolian or foreign travel agency.
Our travel company provides invitation letters regarding your travel request, so please contact us for the issue.
Citizens from the USA and Poland  do not require visas for a stay of up to 90 days, Japanese, Israeli and Malaysian citizens can stay visa-free for up to 30 days and Hong Kong and Singaporean citizens can stay visa-free for up to 14 days.