Naadam Festival - A day tour for the festival
Naadam Festival is one of the biggest holidays in Mongolia. One thousand twenty-four wrestlers compete on the green wrestling field. Matches happen without a time limit for the match and no weight division to pair same size wrestlers. Mongolian wrestlers wear traditional Mongolian boots and special clothes for wrestling.  The Zodog-a small open-fronted vest that looks too short and tight Shuudag-shorts.
There are six different categories of horse racing, depending on the age of the horses. The riders, both boys and girls are aged from 8 to 13. They ride the distance of the race, which ranges from 15-30km. Archery, originating from the era of Genghis Khan is the oldest sport in Mongolia. Traditionally, this was only a men's sport but archery is now a contemporary sport for both men and women who compete in separate divisions. Male archers shoot for a target on a 75 m range while female archers shoot for a target on a 60 m range.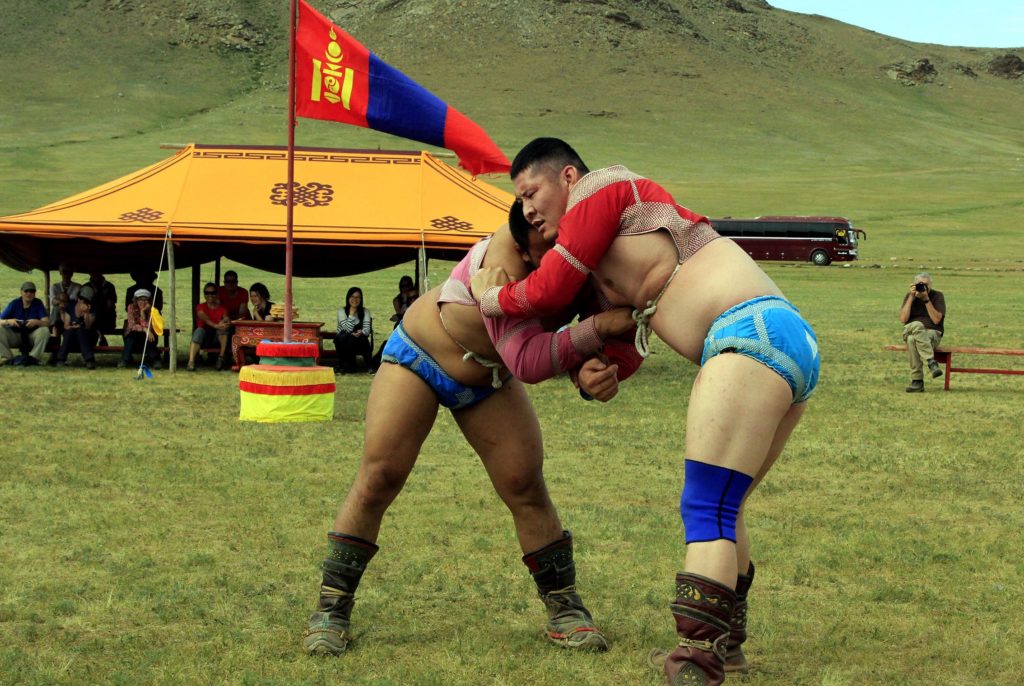 Total distance: 90kms
Tour length:  One day
Route:  Sukhbaatar square, Stadium, Khui Doloon Khudag, Ulan Bator
Activities:  See Naadam Festival opening Ceremony, see wrestling, archery, and horse racing.  Try typical local food and fermented mare's milk.
 Difficulty:  Easy
What to bring:  Sunglasses, suns cream, hat or cap, raincoat if it's rainy, wet and dry tissues.
Tour price: $130 US per person.   Please contact us before you book the tour.
Included:
Transportation
Fuel
English speaking tour guide
Breakfast
Snack for lunch
Opening Ceremony tickets
Drinking water
Excluded: 
Travel insurance
Personal toiletries
Tips for the driver and the guide
Visa fee
Travel insurance
Alcohol drink
Naadam Festival - a day tour program
7:30 am
Breakfast in a nice restaurant.
9:00 am
See a parade of mounted cavalry, athletes and monk transporting nine white banners which represent of Chinggis Khaan's nine horsetails from Sukhbaatar Square to the Stadium to open the Naadam festival.
11:00 am
Naadam Festival opening ceremony
1:00 pm
A quick visit outside the stadium to see archery, and ankle bone shooting game.
2pm
Drive to Khui Doloon Khudag to see the horse race. One the way, we'll have a snack on the bus. And around 4 pm we'll see the horse race. We'll have some time to try some Khuushuur (deep-fried meat pie which is symbolic food for the Naadam Festival) while we're waiting for the horse race to arrive in the finishing line.
6pm
Drive back to Ulan Bator.
Why travel to mongolia with us!
You'll receive the dedicated attention of travel designers with in-depth knowledge of the destinations and decades of combined experience. 
What You Get for your tour
 You'll experience a unique and authentic nomadic life style, feel soothing wilderness, and enjoy stunning scenery of Mongolia.