Epic Road Trip - Tour to the South and the North via Central Mongolia, 18 days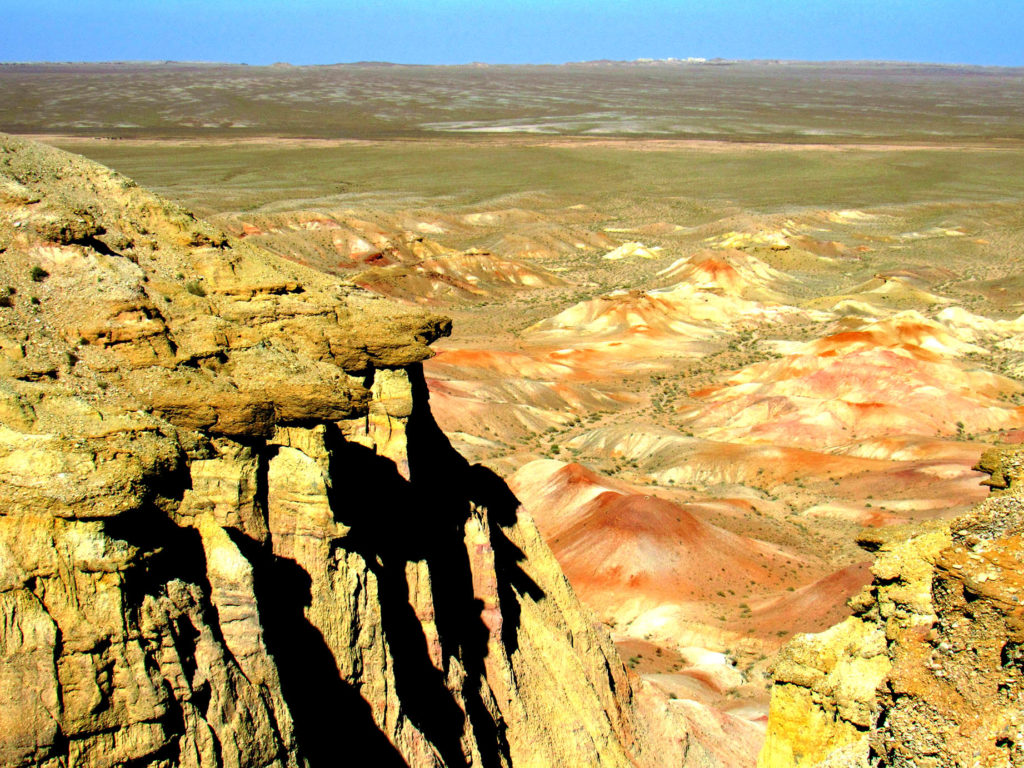 Tour departure dates:
| | | | | | |
| --- | --- | --- | --- | --- | --- |
| Dates | June 2 |  July 6 |  July 26 |  Aug 16 |  Sep 5 |
|  Available seats |  4 |  4 |  4 |  4 |  4 |
Please contact us for customizing this tour only for you.
Epic Road Trip Route:
Ulaanbaatar – Baga Gazaryn Chuluu – Tsagaan Suvraga – Yol valley – Khongoryn Els – Ongi temple ruin – Orkhon waterfall – Tsenkher hot spring – Great White Lake – Murun – Lake Khovsgol – Khutag Undur – Amarbayasgalant – Ulaanbaatar
Activities:
Camel riding upon guest's request for an hour or a day, horseback riding for a day, trying typical Mongolian barbeque called "khorkhog", visiting local family, camping, hiking, trekking, visit Erdenezuu temple museum and Kharkhorin archaeology museum, visiting temples and ruins as mentioned in the itinerary,
What to bring:
Wind breaker or waterproof jacket, T-shirt, swimsuits /optional/, sweatpants, sweatshirt, long sleeves shirts, cap, personal toiletries, head or touch lamp, sunglasses. For detailed information please click here
What we provide:  mattresses, tents, camping shower, 
Total distance: By car – 3500kms; by trekking- 80kms
 Tour length: 18 days
 Capacity: 2 – 5 people
 Tour price: $1890US per person.
Detailed itinerary - Epic Road Trip
Day 1: Baga Gazaryn Chuluu
The Epic Road Trip starts as we drive for a full day to the Baga Gazariin Chuluu Ruins (1768 m high granite stone mountain in the territory of Adaatsag soum, Dundgobi province.  There some old temple ruins related with 17th century. Also, we'll be able to see a deep narrow hole with water in it which locals believe in that the water could treat the ocular illnesses. We'll spend the night in a family's spare yurt.
Drive to the scarp of Tsagaan Suvarga which is in Ulziit, Dundgobi province and it is interesting to see the sheer slope, facing east, which from cliff is 30 meters high and 100 meters wide. Over thousands of years the wind has created this amazing structure.  We'll stay in a family's spare yurt.
Day 3: Yoliin Am/Ice valley
We'll drive to a yurt camp which is located close to Yol valley and it is in Gobi Gurvan Saikhan National park which is the biggest strictly protected area in Mongolia.  The mountains here are the highest in the Gobi Desert and the rocky scenery is quite interesting, especially until mid-July while the ice in a gorge remains.  We'll spend the night in a yurt camp.
In the morning, we'll drive to Yoliin Am for 30 kms then we'll walk 3kms in the narrow valley, then 3 kms back to the minivans.  And then we'll have lunch at open air.  After that we'll drive to Khongoryn Els Sand Dunes (195kms). The Khongoryn Els is some of the largest and most spectacular sand dunes in Mongolia. We'll spend the night in a family's spare yurt.
Day 5: Climb the sand dunes
Climb and hike to the top of the biggest sand dunes.  There is an oasis near Khongor creek at the northern edge of the sand dune and the dunes make a sound like plane engine in a windy day, so it's named as "Singing Dunes".  Also, if you wish, you may walk alongside the creek for about 10kms. We arrange a camel riding trip to the sand dunes for an hour or longer depends on guests request.  We'll sleep in the same yurt.
Day 6: Bayanzag flaming cliffs
Start driving to Bayan-Zag(150kms) in the morning. When we arrive at Bayan-Zag, spend the night in tents.  Bayan-Zag means "rich in Saxaul Shrubs" is more commonly known as the "Flaming Cliffs" of Bayan-Zag, famous for the discovery of dinosaur fossils. 
This morning we'll drive to Ongi temple, which are ruins of two monasteries that face to each other across Ongi river in Saikhan-Ovoo, Dundgobi province, Mongolia.  Founded in 1660, it was one of the largest monasteries in Mongolia and housed over 1000 monks at its height.  And both complexes of Ongi Monastery were destroyed in 1939 during anti-religious purges carried out under Choibalsan Kh, the leader of the Communist Party of Mongolia. Over 200 monks were killed, and many surviving monks were imprisoned or forcibly elasticized and conscripted into the Communist controlled army. We'll spend the night in a yurt camp.
Start driving to Waterfall, which is great place for taking photos and go hiking through the gorge.  We'll arrange a couple of hours horseback riding in the area. Stay in a family's spare yurt.
Day 9:  Horseback riding for a day 
Go horse riding for a day in the area.  Spend the night in the same family's spare yurt.  We are halfway through the Epic Road Tour.
Day 10:  Tsenkher hot spring
On this day, we drive to Tsenkher hot spring.  We'll have a relaxed evening taking a hot bath in the natural hot spring water. Stay overnight in the yurt camp there.
Day 11: Great White lake and Khorgo volcano
Today we'll drive to the Great White Lake.  Khorgo Uul is a dead volcano, which lies on the edge of the lake of Terkhiin Tsagaan Nuur in Arkhangai province.  The mountain Khorgo is covered with basalts.  The National park covers 28 square kilometers including Togoo Uul 2.240 meters above sea level and the Hill of the lake Terkhiin Tsagaan.  It has been protected since 1965.  We'll stay in a local family's spare yurt.
Day 12:  Hiking to Khorgo volcano
We'll go hiking from the lake to Khorgo volcano for a day.  We'll enjoy the fantastic scenery from the top of volcano.  We'll stay in the same family's spare yurt for guests.
Day 13:  Zuunnuur lake
 Head to the Lake Khovsgol but on the way we'll sleep in tents near Zuunnuur in order to avoid too long driving.  Also, you'll have an experience of camping.  Sunset here is pretty.
Drive to the Khatgal village of Khovsgol province. Khovsgol National park covers 8.381 square kilometers including the Lake Khovsgol and its watershed, the Lake Basin, and parts of Zunii Saran Mountain. It has been protected since 1992. The Taiga forest has Euro Asian otter, beaver, moose, reindeer, argali, Siberian ibex, snow leopard, red deer, Siberian roe deer and many other wild animals. We'll stay in a family spare yurt. 
Day 15:  Hiking at Lake Khovsgol
 On this day, we'll go hiking for a day by the lake shore and enjoy the magnificent view of the area.  We'll spend the night in the same family's spare yurt. 
Day 16:  Khutag Undur 
We'll continue driving and find a nice spot to camp near Khutag Undur village.  You'll enjoy scenery while we're driving, and you'll be able to stop for photo shooting as many times as you want.
Day 17:  Amarbayasgalant temple
 Start driving to Amarbayasgalant temple which is one of the interesting Buddhist temples.  We'll stay in a yurt camp.
Day 18:  Ulaanbaatar – End of Epic Road Trip

We'll drive back to UB and arrive between 5-6pm.
Included:
Transportation
Fuel
English speaking tour guide/cook
National park entrance fees
Camel riding for an hour
Horse riding for a day
Accommodation as mentioned in the itinerary
1.5L drinking water a day per person
Full board(17 breakfast, 18 lunch, 17 dinner)
Tents
Mattresses 
Sleeping bags
Excluded:
Accommodation in UB
Travel insurance
Personal toiletries
Tips for the driver and the guide
Visa fee
Travel insurance
Alcohol drinks