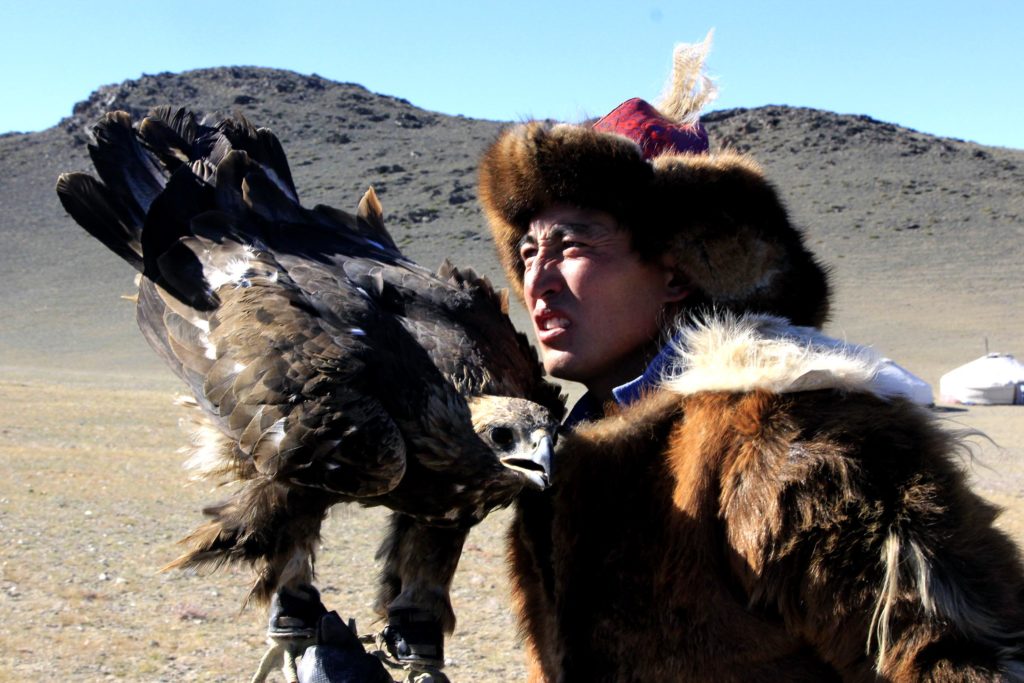 There are approximitaly 250 eagle hunters in Bayan-Ölgii, which is located in the Altai Mountains of western Mongolia. They use eagles to hunt foxes and hares during the cold winter months when it is easier to see the gold colored foxes against the snow.
We'll book flight to/from Ulgii and our partner family will pick you up at the airport and then you'll stay with them for 4 days to explore their daily life style.  You'll stay in their spare kazak colorful yurt and eat with them.  You'll ride horses and train eagles.   They will accept up to 4 people at once and it'll cost $200US per person for 4 days.  The price covers accommodation in their yurt, breakfast, lunch and dinner and one day horse riding for training eagles.
Additional request you might have: 
If you'd like to extend your travel and go to Tavan Bogd National park please let us know and we'll be able to customize the tour that suits to your needs. 
What to bring:  There are only beds in their kazak yurt.  So, you need to have a sleeping bag.  Wind breaker, waterproof jacket,  sweatpants, sweatshirt, long sleeves shirts, T-shirt, cap, boots for the horse trekking, gloves,  personal toiletries, head or touch lamp, sunglasses. 
For detailed information please click here
Price: $250 USD per person for 3 nights and for days.
Included:
Accommodation for 3 nights
Meals: 3 breakfast, 4 lunch, 3 dinner
Horseback riding for a day and experience holding eagles on the horses
Transportation to/from an eagle hunter family
Excluded:
Domestic flight to/from Ulgii
Personal toiletries
Transportation to/from the family.
Travel insurance
Note: Facilities can be pretty basic without running water and toilets outside of the yurt so, tolerance, an open mind and cultural breadth will be needed to afford you a more pleasant and fulfilling experience.  Beside creating amazing stories for your return home, an open mind is the way to disconnect from your daily digital grind and gain the full experience of life as a Kazak family in Western Mongolia.
This Kazak family stay has no tour guides, so if you prefer to have to a tour guide please let us know and it'll be an extra charge.